Foot & Ankle Orthopaedic Surgery Fellowship
We offer a university-based Food & Ankle Orthopaedic Surgery Fellowship Program in downtown Chicago with two full-time faculty who have a depth of experience in education and research. The program has been designed as a mentorship with one-on-one time split equally with each faculty who provide a hands-on experience for the trainee in sports, trauma, reconstruction, revision surgery and total ankle replacement. In addition to the education provided by direct patient interaction in the clinic and operating room, weekly lectures structured for the fellow along with monthly journal clubs are scheduled to complete the educational experience. Extensive clinical research opportunities are available, including the resources of well-established biomechanics laboratory. 
Connect with Us
For more information, contact fellowship coordinator Alfredo Bueno at 312-926-7193
.
About the Program
 Education
Our goal is to provide a comprehensive didactic program to maximize the education for the fellow. We have developed a weekly didactic session that is focused solely for the fellow. The topics have been chosen based upon the recommended curriculum provided by the AOFAS. The curriculum is reviewed twice throughout the year so that the fellow has repeated exposure to the subjects. This is in addition to monthly journal club that will  cover the current topics published over the course of the month in Foot & Ankle International. The program is designed to be fluid so that if there is a topic of interest, this can be reviewed in addition. The recommended procedures cover a wide variety of subjects that are well covered in the practices of both faculty. We have a broad scope of pathology that covers the forefoot, midfoot, hindfoot and ankle. No anatomic practice restrictions are in place. Additional, both reconstruction and trauma are covered, including ankle arthroplasty. Both primary and revision surgery are performed by faculty, allowing for a broad experience for the fellow. In order to ensure that the fellow has an enjoyable and educational experience, the faculty and fellow will work together to maximize the exposure to unique cases. Our goal is that the fellow has a hands-on experience and is able to primarily perform complex foot and ankle orthopedics at the completion of the fellowship. Both faculty have a strong commitment to education and are invested in both the education and future career of the fellow.
 Research
In addition to participation in the full clinical and academic calendar, the fellow will have the opportunity to conduct, present and defend clinical and/or basic science research. The fellow must complete at least one clinical or basic research project that is publishable in a peer-reviewed journal and present research findings at our annual Resident and Alumni Thesis Day. The department will support the fellows' research efforts with travel expenses to present findings at regional and national meetings. 
 Our Facilities
The fellowship is based at Northwestern Memorial Hospital (NMH). The hospital is a large, urban medical center and Level 1 trauma center with excellent facilities related to patient care. The clinic is fully staffed and has more than 20 individual patient rooms, a cast room, attached physical therapy and plain film imaging.
Fellows have access to all educational, clinical and surgical resources available at NMH and Northwestern University Feinberg School of Medicine. These facilities include multiple laboratories specialized in biomechanics, gait evaluation and human anatomy. NMH has a human anatomy lab that the fellow will have access to for cadaveric studies.
The medical school also has the Northwestern Center for Advanced Surgical Education, which has skill stations, simulators and dry and wet labs for use in educational conferences.
 How to Apply
Apply through SFMatch. The deadline is Nov. 1.
 Why Northwestern?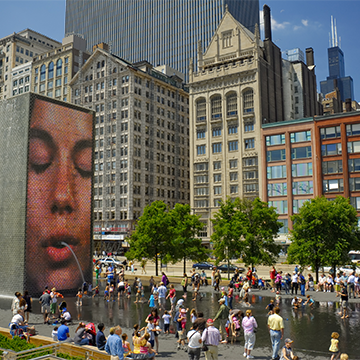 Housestaff training through McGaw Medical Center of Northwestern University provides diverse and challenging clinical experiences and world-class education located in the heart of the beautiful city of Chicago. Learn more via the links to the McGaw website below.
Watch Our Videos
Physician-Scientist Training & Resources
We offer a wide range of resources, mentorship opportunities and training to help our residents and fellows excel as physician-scientists. Explore all of the resources and hear from housestaff who are making research a major part of their career development plans.
Visit the Starzl Academy Site